Interior Painting Guide
Welcome to my Interior Painting Guide! This is where you will find the step-by-step interior painting guides to all the basics of painting.
Many "how-to" guides act as if you already know the basics.  For the first time do-it-yourselfer and those whose first attempts haven't gone so well, this isn't necessarily true.
There are many tips and tricks of the trade that can make your project easier and less stressful.
What tools will you need?  How do you prepare a room to be painted? How do you load a paint roller or paint brush with paint?  How do you clean the paint from your tools (or worse, floor!) after you're done?
It can all seem overwhelming and stressful! In this interior painting guide, I will show you all the key items to think about before you begin. We will keep it short (like me) and sweet (debatable) so you can get on with your project confidently.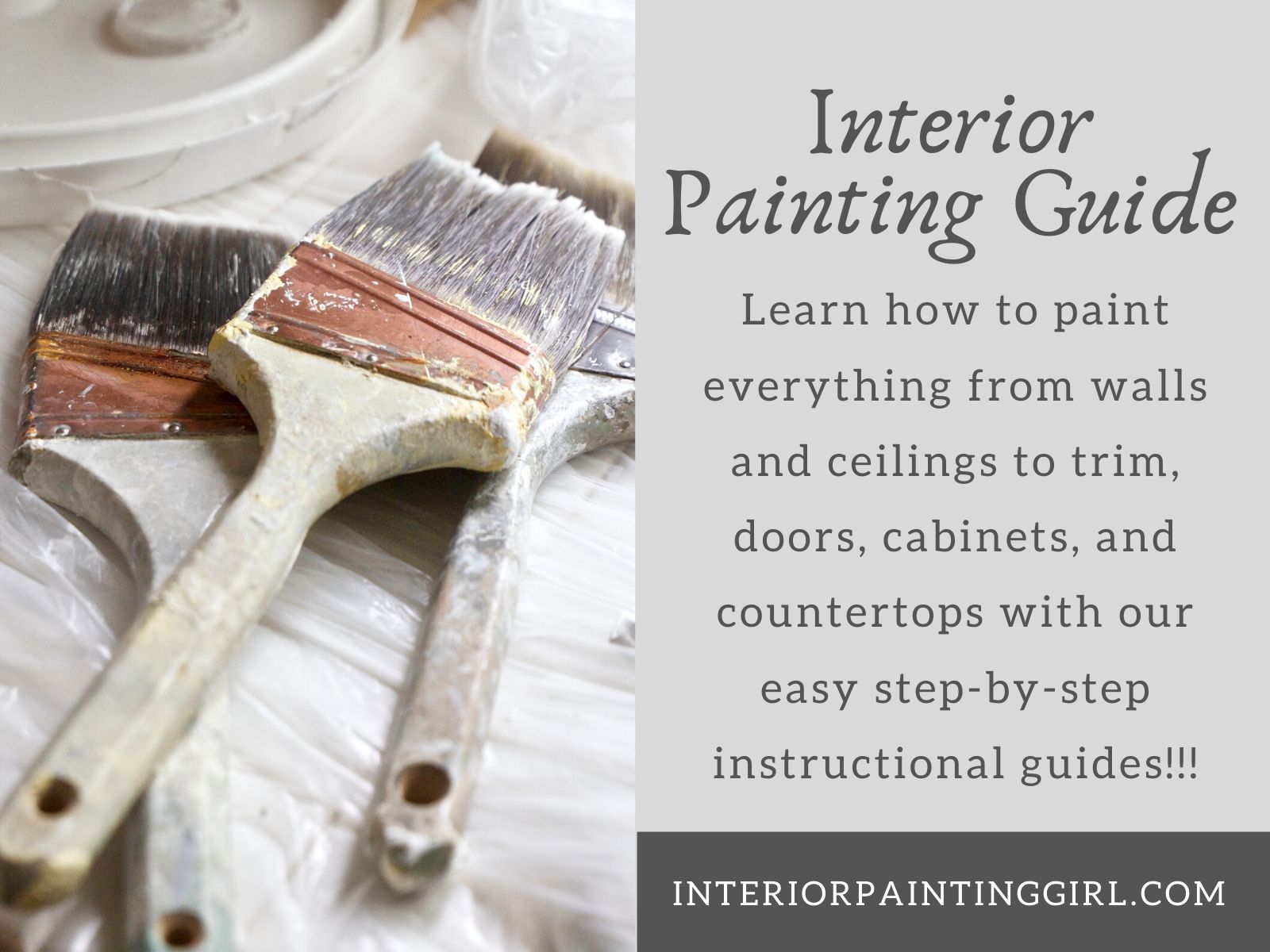 Below are links to each of the Interior Painting Guides:
---
Two things people consistently hate about painting (and thus do poorly) are the prep-work and cleanup. I cannot stress enough how much your success depends on the prep-work!  I've created an easy prep checklist for you so you can start your project fast and know your work space is safe, sound, and ready for color. The pudding is in the PREP!!
---
Here you'll find the step-by-step interior painting guide for painting drywall, from preparation to cleanup. Common tips and tricks? How to properly use a paint roller? You'll find that here as well.
Interior surface requirements differ greatly from room to room and from material to material. What are the pros/cons of different types of paint and where should I use them?
---
Ceilings have different requirements from walls or other surfaces.  Since the surfaces are horizontal, they have some special considerations. They are often textured, so they may require different tools and types of paint than a traditional interior wall.
---
When it comes to a budget-friendly kitchen or bathroom remodel, painting cabinets is a must! Often, cabinetry is in great working condition, only you wish they could coordinate with your new color palette.
Painting cabinets is an effective way to get the look you want without spending a fortune and I'll walk you through the crucial steps so they'll go on being the workhorse of your house for many years to come!
---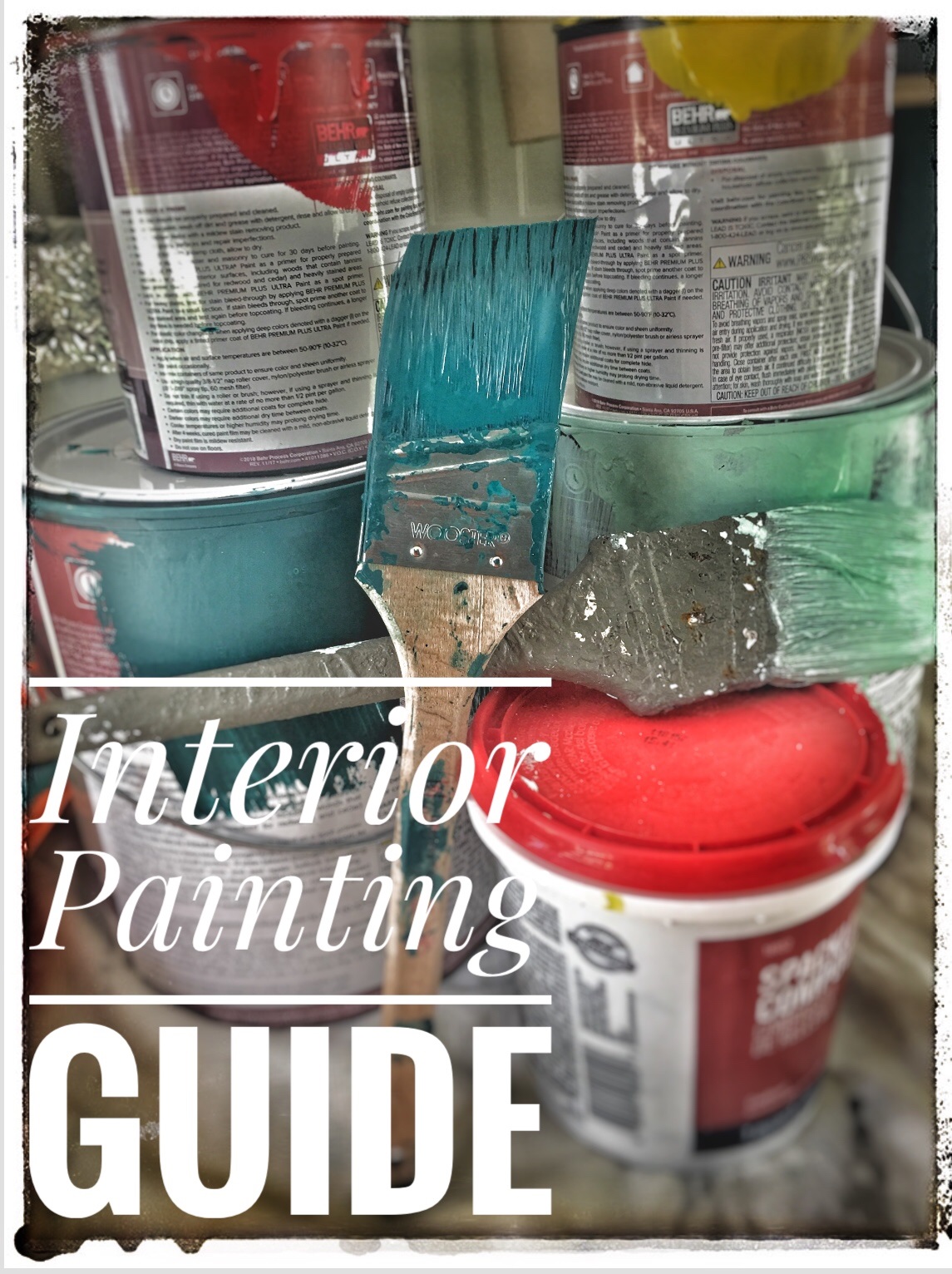 ---
This interior painting guide will lead you through the maze of painting tools available. There's nothing worse than being ready to start your project and realizing you don't have the right tools or materials.
I've created a simple checklist of painting tools that will carry you from beginning to end without difficulty.
There are also individual guides to help you choose the best paint brush or decide on which paint extension pole is best for your project.
---
The devil is in the details, they say.  Painting trim is one of those devils – a sometimes tedious but necessary piece to completing any renovation or redecorating project.  Check out this interior painting guide for tips on how to get that trim looking new and fresh.
---
Like your trim, doors take a lot of abuse. Painting interior doors can make the whole space feel fresh and bright, and can be a great place to add unexpected color! But doors require some special considerations, and our how-to guide and tips will make them a breeze.
---
Are your countertops in need of a refresh? Or maybe a new color to match a remodel or redecoration. Interior painting is about more than just walls, floors, and ceilings. With today's specialty paints, just about any surface can be painted! Check out our interior painting guide for how to paint countertops.
---
It's not just the prep and the interior painting that are important. It's what happens when the job is all done! What do you do with those partial paint cans you have remaining? How should they be stored so the paint remains good for touch-ups and repairs for years to come? Check out our list of tips for how to store paint!
---
Removing wallpaper is one of those unpleasant but often necessary tasks prior to tackling an interior painting project.  This interior painting guide will give you step-by-step instructions on how to get rid of that wallpaper or border so you can get on with your painting!
---
Sometimes you have few options except to paint over existing wallpaper. Follow our interior painting guide tips to ensure a quality look and finish when painting over wallpaper. 
---