Bathroom Painting Ideas
Bathroom painting ideas rarely get the attention they should. After all, we spend a significant amount of our time in the bathroom – bathing, grooming, and dressing amongst other more obvious tasks.
The bathroom is also one of the few rooms that your guests and visitors will frequent.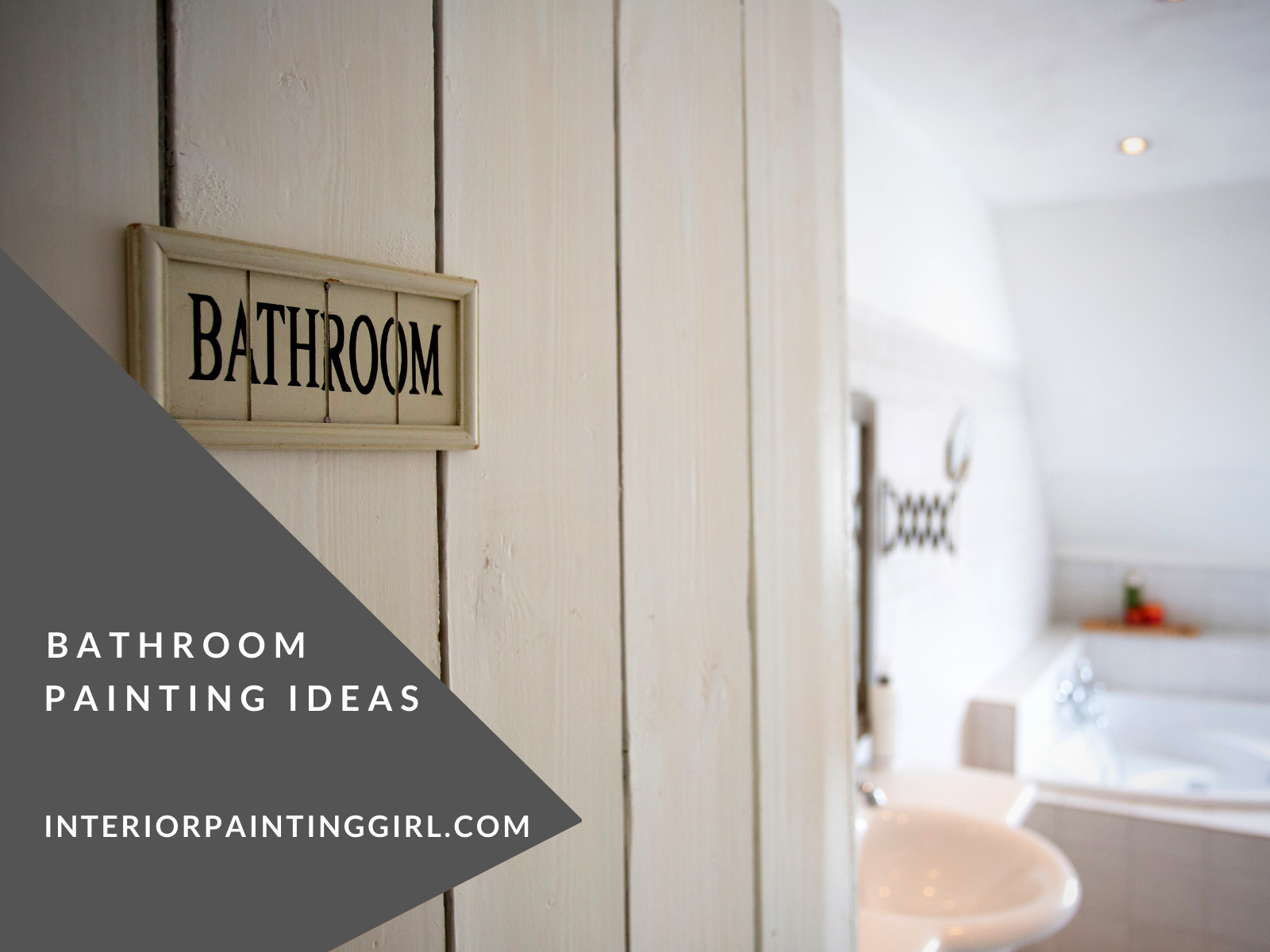 Bathrooms have a few challenges that make them unique from many other rooms in the home.
For starters, they're typically smaller. They can vary in size from no larger than a closet to much more spacious in some homes, but they're almost invariably smaller than most living spaces.
They also tend to be both isolated in some way from adjoining areas (for privacy) and to contain fewer windows and thus less natural light. These facts can provide both freedom and constraint of color choice.
These are all things to keep in mind when determining the best bathroom painting ideas for your room. 
One other important factor to keep in mind is the moisture level of the space. Bathrooms are unique in the amount of moisture created and trapped due to showers, baths, and hot running water. Choosing a high-quality paint with a slightly glossier sheen (such as a satin finish) will help the walls repel moisture and remain easily wipeable.
Beadboard Accents
The first of our bathroom painting ideas is to utilize beadboard (or wainscoting, the terms are sometimes used interchangeably). This is a great way to add visual interest and contrast in your bathroom space.
Beadboard was originally narrow tongue-in-groove planks arranged vertically on a wall, with the grooves between the planks forming the "beads".
This is usually now available in single pressed sheets of wood, with the beads tooled onto the surface of the wood to imitate the look of individual boards, that can be cut to size for your space and nailed or glued to the wall.
Beadboard serves a few purposes – to protect walls from damage, to cover up previously damaged drywall or plaster, or to create visual interest and contrast within a space. 
That last is important within a bathroom because much of a bathroom's space is taken up with non-decorative items like toilets, showers, and sinks, so the wall space becomes valuable decorative real estate.
Beadboard can provide some of that decorative "punch" without utilizing any of the room's floorspace.
Beadboard typically covers the walls from the floor to anywhere from 3' to halfway up the height of the wall.
It CAN be painted the same color as the walls and trim, but for our decorative purposes I find it best served by painting the beadboard & trim and the upper walls different colors to create contrast within the space.
White or off-white beadboard helps to create brightness and a feel of openness and architectural detail that contrasts beautifully with a second color utilized for the upper walls.
The effect can also work extremely well the other way around, utilizing a light or neutral color on the upper walls and a darker or more vibrant color on the beadboard and trim. 
Either way, you have the effect of two contrasting or coordinating colors working together on a single wall.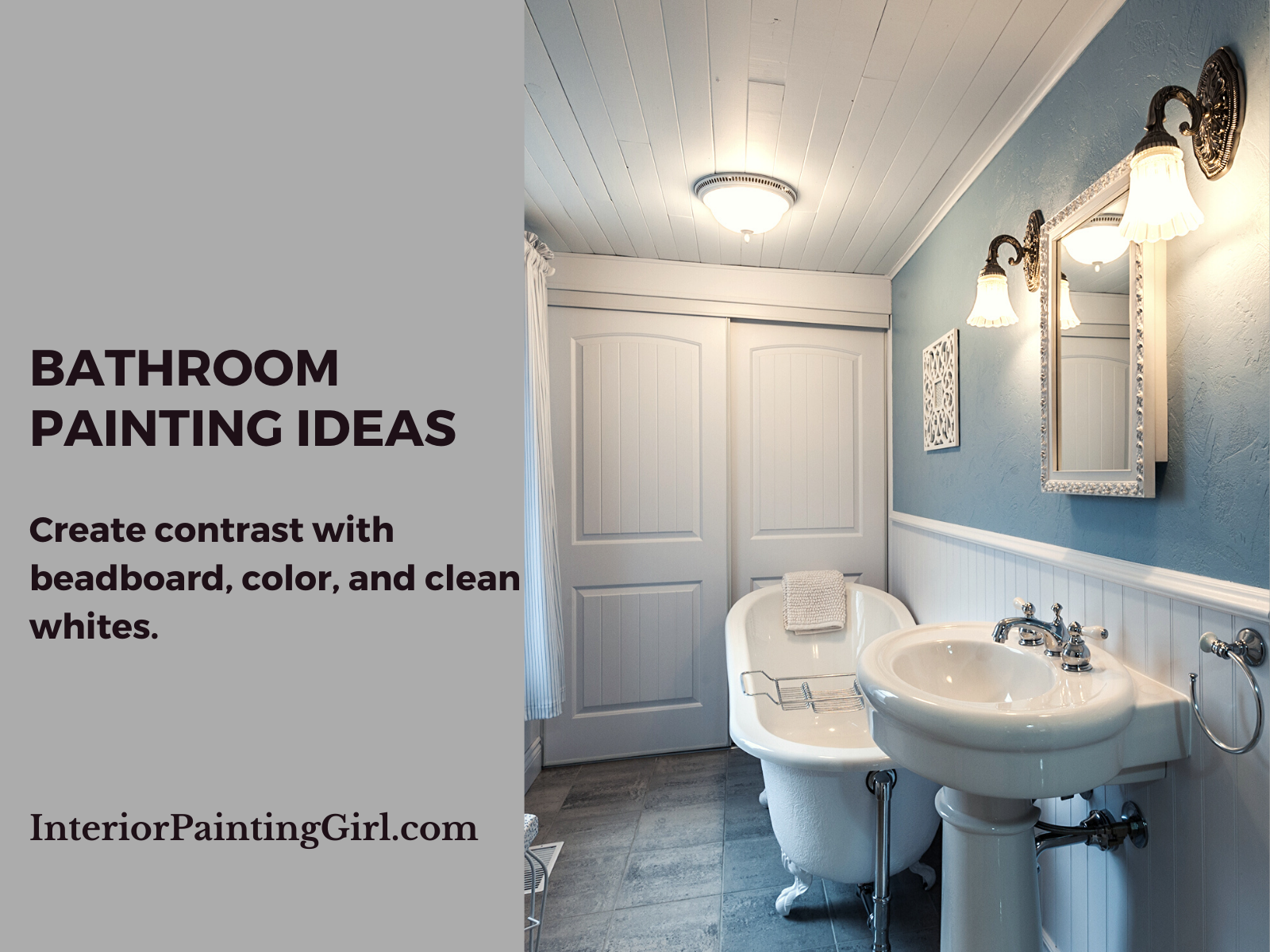 Rich & Elegant Bathroom Painting Ideas

These bathroom painting ideas are based around the idea that while a bathroom has certain constraints, it also has certain advantages. White showers & bathtubs, white porcelain toilets, these are fixtures in 95% of bathrooms.
Those white fixtures create an automatic contrast for rich and elegant colors within a space.
And since bathrooms are often isolated from other areas of the home, you aren't limited by the color choices of adjacent spaces, the way you might be in rooms that are open and flow into other spaces.
Navy blues and dark hunter greens are two lush, impactful colors that tend to work excellently within a bathroom. The blues, when contrasted with white fixtures, light woods, and light trim, create a clean watery look. The dark greens when contrasted the same way have a verdant forest feel.
If you are frightened of using too dark a color in your space, especially if there is little or no natural lighting, consider utilizing strong color on a single accent wall, perhaps behind the primary sink or vanity.
In any situation where dark color is used in a small space like a bathroom, sufficient lighting and sharp contrast with lighter or brighter colors is necessary. If dark wall colors are used, consider white or off-white décor, trim, shower curtains, towels, and other details.
Rich wall colors work fantastically when contrasted with white tile or white or off-white beadboard, as suggested above.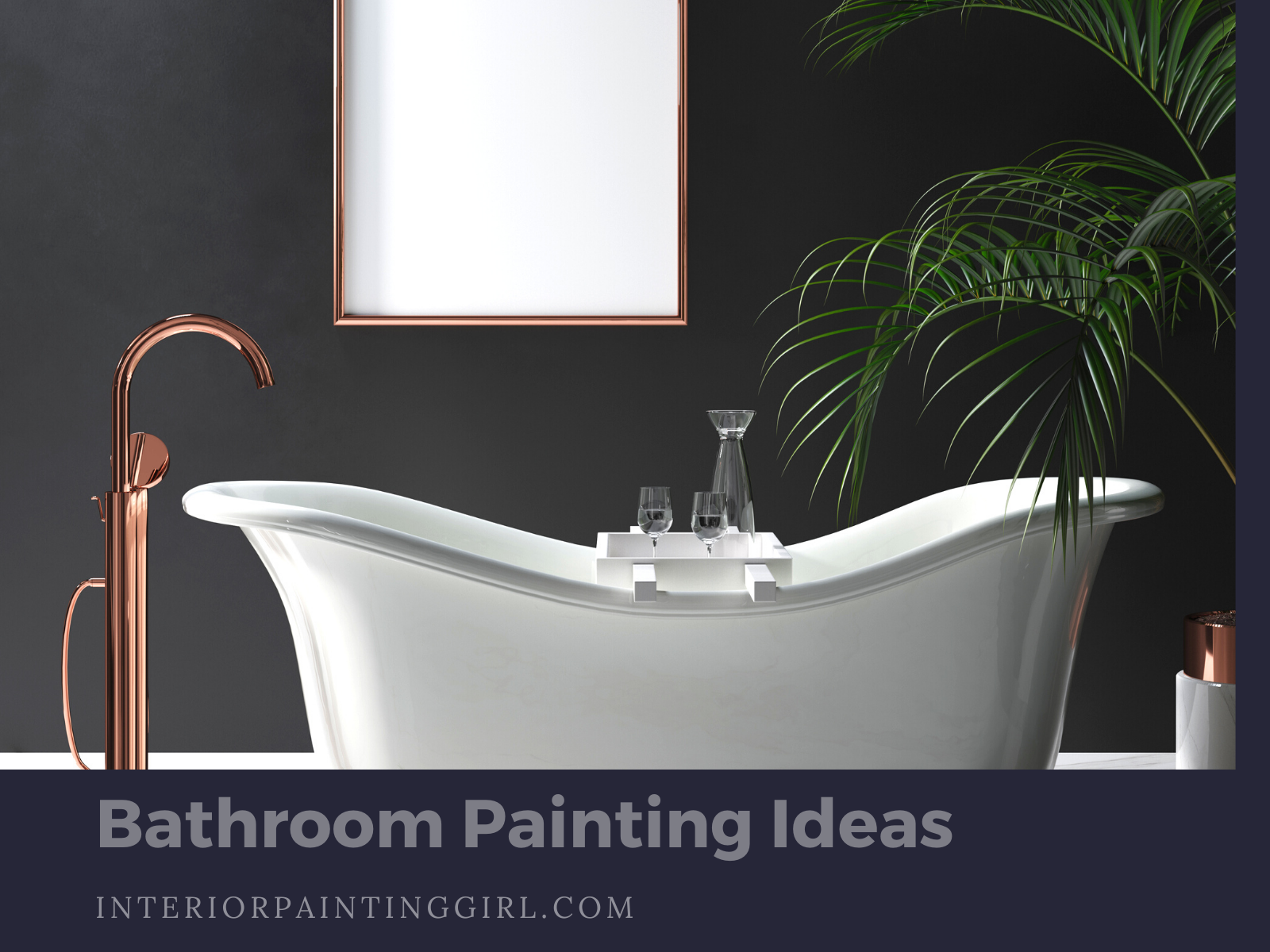 Sandy & Nautical Bathroom Painting Ideas
Given a bathroom's uses, one of the most popular and effective bathroom painting ideas involves utilizing a nautical theme.
Nautical themes work well within a bathroom because they tend toward lighter color schemes, like neutral sandy tones, light earth tones, whites, off-whites, and light blues. Since bathrooms often have minimal natural lighting, maintaining a light color scheme helps reflect and keep light within the space.
If this is a bathroom where cosmetics or personal grooming is done regularly, maintaining a light and neutral wall color helps keep the light "pure" within the room. Light reflecting from deep or dark-colored walls can deceive the eye.
Behr's "Country Beige" and "Opal Silk" are two colors that work well together to bring sand and sea together in a nautical theme, especially when utilized with white details. That light sandy or beige tone can also be used with pops of darker navy to give a nautical impact.
Distressed whites and off-white colors can work very well in this style. Trim or wooden furniture can be "distressed" by painting a wooden surface, allowing it to dry, and then lightly sanding the surface to expose some areas of raw wood, giving it a worn and well-loved appearance.
Decorate with rugs, shells, starfish, netting, or colorful seaside artwork to pull it all together.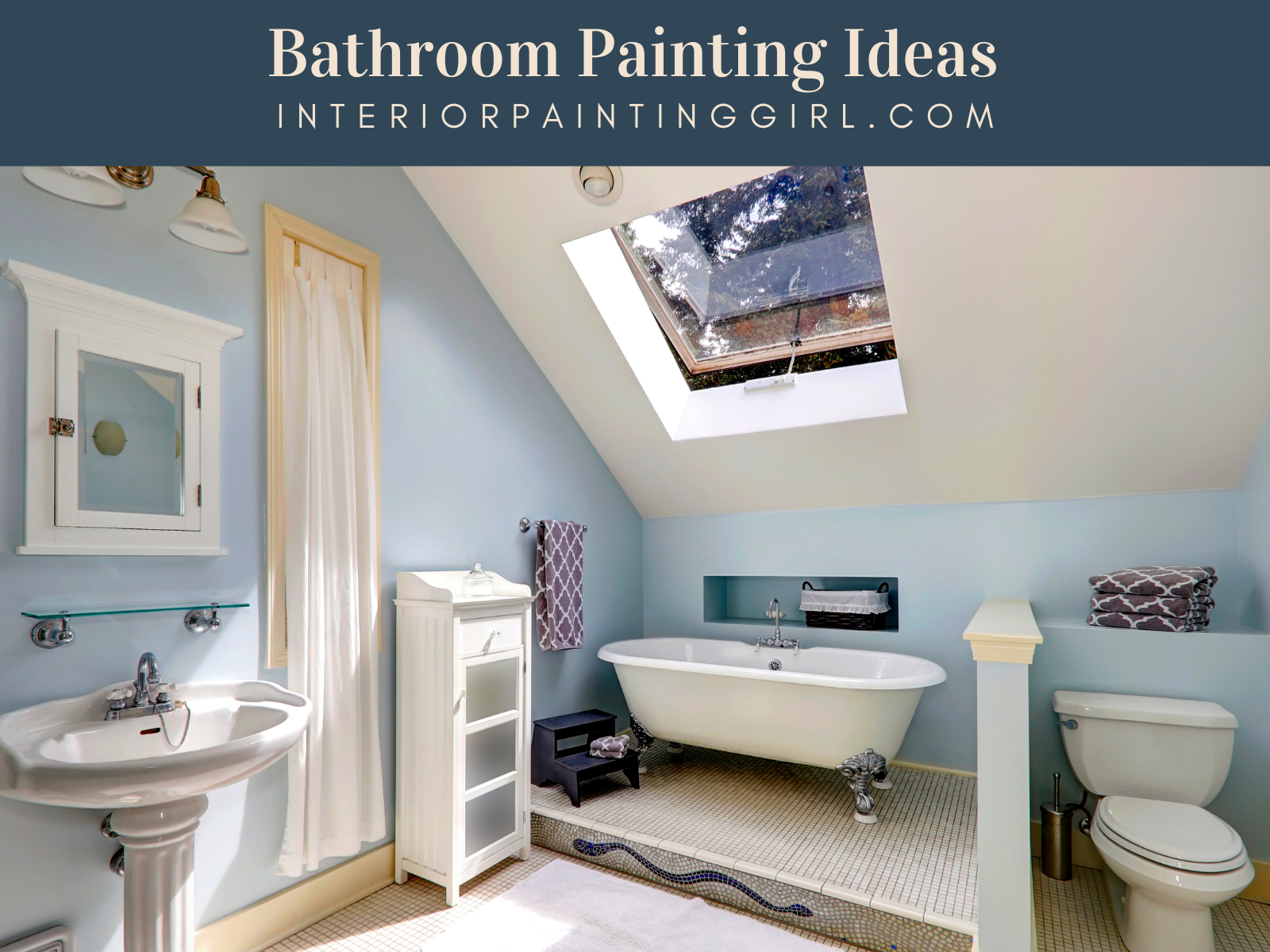 Venetian Plaster
Venetian plaster is one of those special applications that I think works extremely well within a bathroom. Venetian plaster – of the type sold by the major paint manufacturers – is something like a cross between a paint and a drywall mud. It can be tinted to a color, much as paint can be, but it is applied with a trowel rather than a brush.
Step-by-step instructions for applying Venetian plaster can be found here. (Link Coming Soon)
There are several advantages to Venetian plaster, especially in a bathroom.
First, there is the unique look of the plaster. Though it is sanded to a smooth finish, it has a very textural appearance full of depth. This works especially well within a small space like a bathroom, where it has considerable impact.
Secondly, Venetian plaster can be given a finish coat of wax. The wax has the dual purpose of deepening the appearance of depth and protecting the surface against moisture, making it durable and tough in a high-moisture environment.
Lastly, the distinctive shiny finish of Venetian plaster can be made to invoke a number of unique looks that work extremely well in a bathroom space, including sea glass, elegant marble, and polished stone. 
When done well, Venetian plaster can look like a $30K upgrade to a bathroom, for the tiniest fraction of that price.
Venetian plaster can work extremely well when combined with the first idea above, utilizing beadboard partway up the wall, with Venetian Plaster on the top half.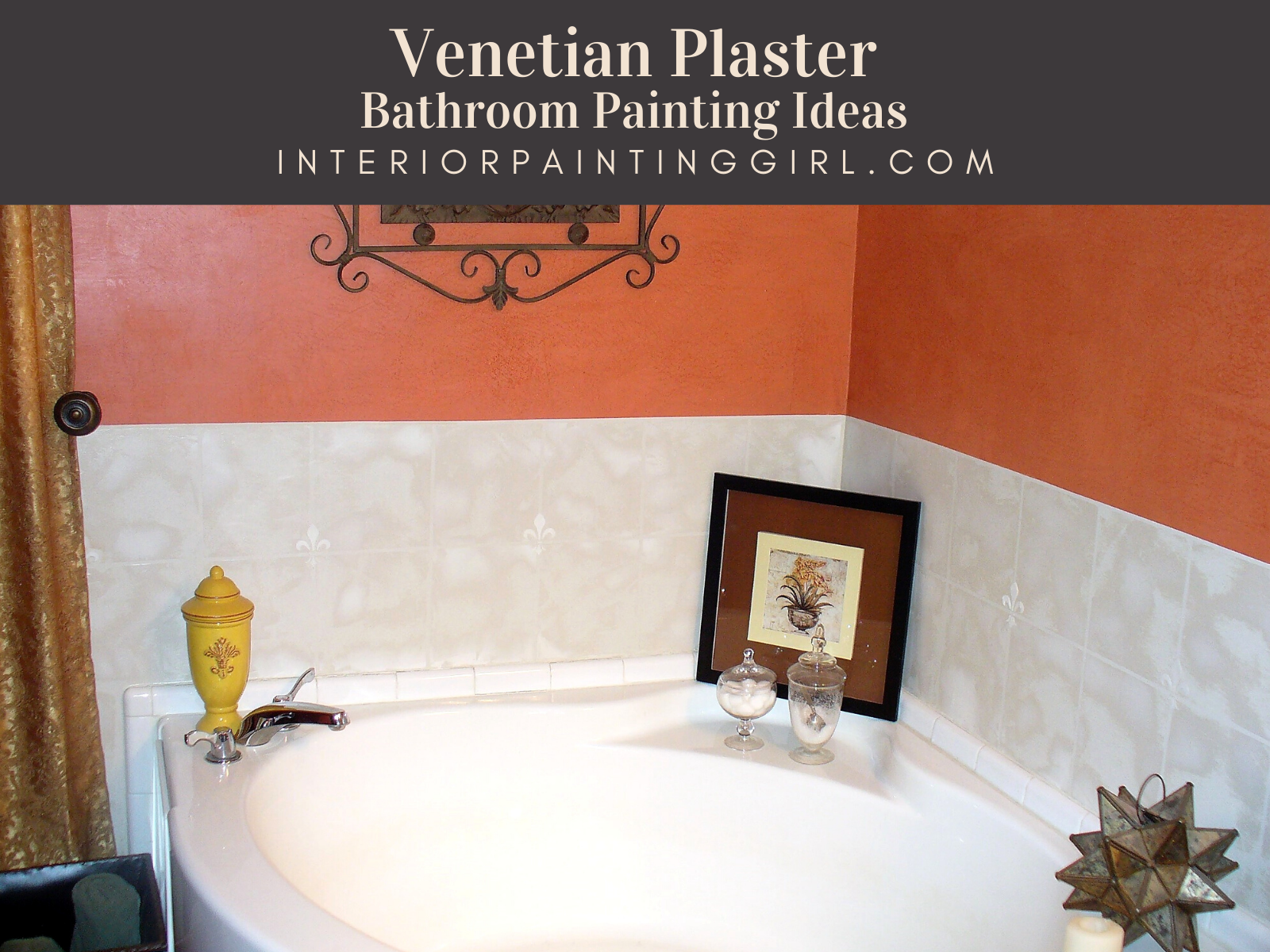 ---
These are obviously only the tip of the iceberg when it comes to bathroom painting ideas for your space. It would be impossible for me to list all the different styles, color combinations, and bathroom painting ideas available. But I hope this list has given you food for thought and consideration.
If you need more help selecting colors for your space, hop over to our Interior Painting Colors page for some instructions and help on where to start with your color selection.
Consider browsing some home decorating or design magazines or visit That Interior Painting Girl's Pinterest page for more images and examples of what could be done with your space.